If you're on social media, you see sweepstakes and contests pop up all the time. It doesn't matter whether you're offering a product or service: Sweepstakes and contests are an easy way for any business to build their following, increase engagement, and boost lead generation.
Most companies host their giveaways the same way: They post it directly on their social media feed. You might see the giveaway when you're scrolling through your news feed. If you have an account's post notifications turned on, you might learn about the giveaway that way. Or you might see the announcement in a brand's Instagram Story.
Hosting a giveaway directly on your social media feed has its benefits, but what if there was a better way? A way that you could host your giveaway on your own online property instead of a platform that's regulated by another company?
The answer is simple: Create a landing page for your sweepstakes or contest on your website.
Why You Need a Landing Page for Your Contest
The main reason you need a landing page is to have an online location other than a social media platform to host your giveaway. Social media platforms are a common place to host sweepstakes and contests, but there's a catch: You don't fully control the platform. If Instagram glitches and deletes everyone's content today, it would just be gone. They would owe you nothing. But if you host your giveaway through your own website, you can ensure the content remains available.
Besides that, not everyone who is eligible to enter your contest is on social media. Hosting your giveaway on your website makes it accessible to more people.
Landing pages are marketing tools that serve a specific purpose. Other pages on your website have designs that facilitate things like education or entertainment. A landing page's purpose is usually to focus on a single promotion. Sidebars, footers, and headers are gone. Your logo might be somewhere on the page, but all other recognizable elements from your website should get stripped.
You can fit all the necessary information about your sweepstakes or contest on one page without it looking cluttered (don't forget the legal disclaimers and a link to your official rules!). If you've ever seen a social media caption with sweepstakes or contest entry information included, you know what we mean. The caption is long, and it increases the risk of incomplete entries. Hosting the giveaway on your own website gives you control over the design so you can create an attractive, eye-catching contest landing page with all the legal disclaimers required to keep you out of hot water with state regulators.
How to Promote Your Contest Landing Page
By design, landing pages typically don't appear on your website's menu. That means that if you don't promote it, no one will find it. That's the opposite of what you want. Here are a few ways to promote your landing page:
Pop-up widget
Usually, pop-up widgets are used for email newsletter signups. When you host a giveaway, switch it up. By adding a pop-up widget on frequently visited pages that leads to your giveaway landing page, you ensure that every site visitor knows you're hosting a giveaway.
Sidebar call to action (CTA)
A minimal sidebar with attractive imagery can effectively let website visitors know about your sweepstakes or contest. You want to design a sidebar that matches the branding of your site but draws the eye. Include bold words to make the sidebar stand out with a button CTA that site visitors can click to see the giveaway landing page.
Social media
Just because you're not hosting your giveaway on social media doesn't mean that you can't promote your contest on social media. Quite the contrary, social media should be one of your main tools for promotion.
If you have a Linktree or a similar platform that displays links, add your landing page link to it. Title it something bold and clear like "GIVEAWAY LIVE" so followers know exactly what it is. If you don't have a Linktree, replace the link in your social media bio temporarily with the contest landing page. You can always change the link back when your giveaway is over.
Creating an Amazing Landing Page With These 5 Essential Elements
Now that you know why you should have a landing page, let's talk about the elements that make them great, along with a few sweepstakes and contest landing page examples. Here are the five essential elements to an amazing giveaway landing page:
1. Clear, exciting copy
The copy on your landing page serves two purposes. The most important purpose is to clearly communicate everything about the giveaway. Your copy encompasses the instructions, the tagline—everything (this includes your official rules and legal disclaimers). The instructions for entering your giveaway should be concise and easy to understand. If you can't tell site visitors how to enter the giveaway in less than five steps, then you need to revise and simplify the process.
The second purpose of landing page copy is to intrigue your site visitors. When they read the copy on your landing page, it should make it nearly impossible to resist entering your giveaway. Build the anticipation.
For example, Hormel Foods is giving away $1,000 cash. The tagline for their giveaway is clear and exciting. The first sentence focuses on the brand: "If you're thinking barbecue, you're thinking Hormel Foods!" The second sentence focuses on the prize: "Enter below for a chance to win $1000 cash!" The blurb about the giveaway shows clearly that you enter to win the cash to spend on Hormel Foods: "Hormel Foods is here to get you set up for a season of grilling with a chance to win a $1000 prize. That's money to spend on a brand new grill, enough meat for any cookout, and all the delicious Hormel Foods products your pantry can hold for the entire season." This is an example of clear, exciting, and effective copy.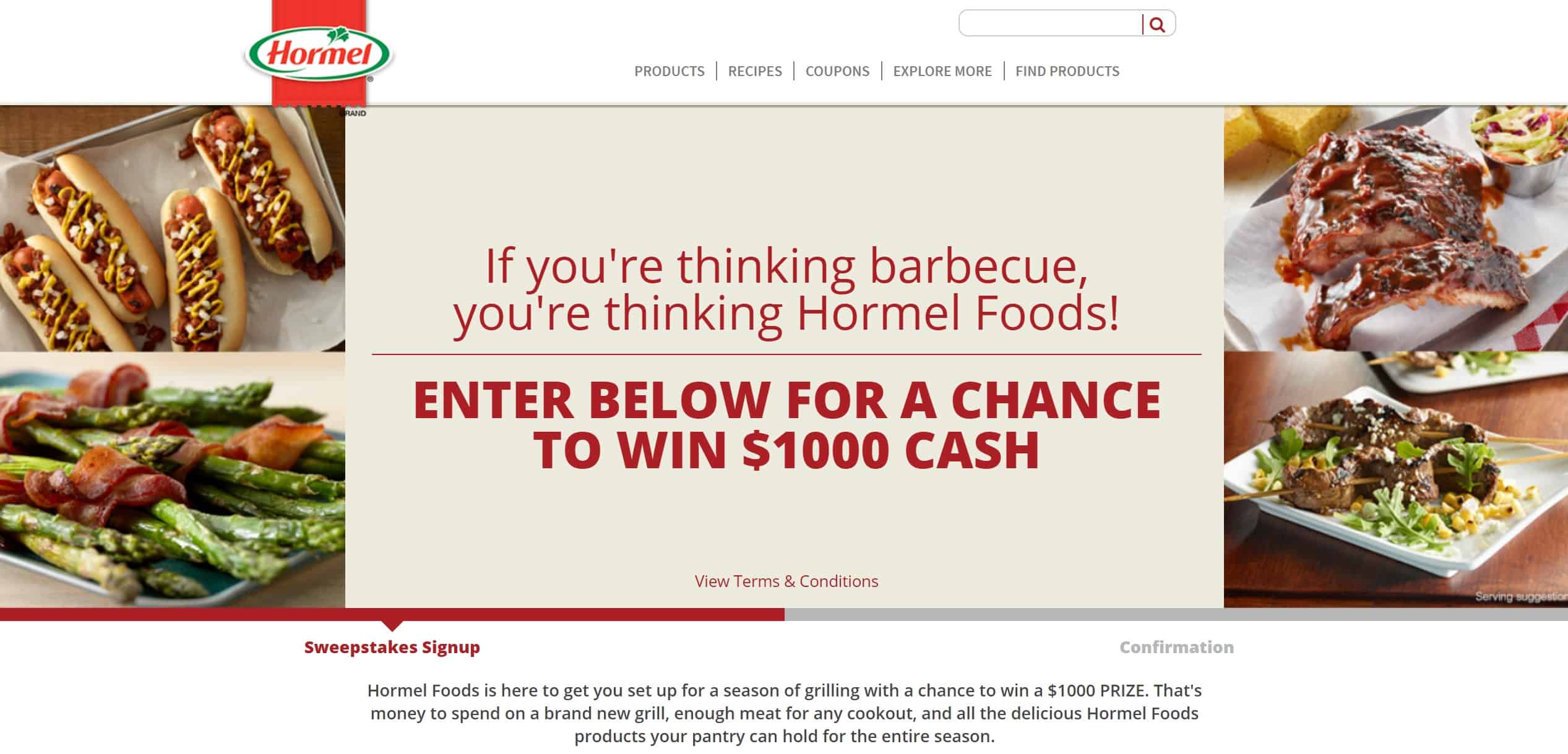 2. Crisp, creative imagery
Whether you use live or animated subjects, you need crisp and creative imagery on your landing page. The imagery should show the prize in great detail. If it's a trip, include enticing imagery. If it's a dinner for two, post drool-worthy photos of meals from the restaurant.
Imagery is a powerful tool. When used correctly, it engages your site visitors. In this case, imagery helps get your giveaway participants in the mood for the prize.
For example, Roxy is giving away a trip to Fiji. The imagery on their sweepstakes landing page is a screen full of clear, blue water. As you scroll down the page, you see photos of different places in Fiji where you could spend time if you won the vacation trip.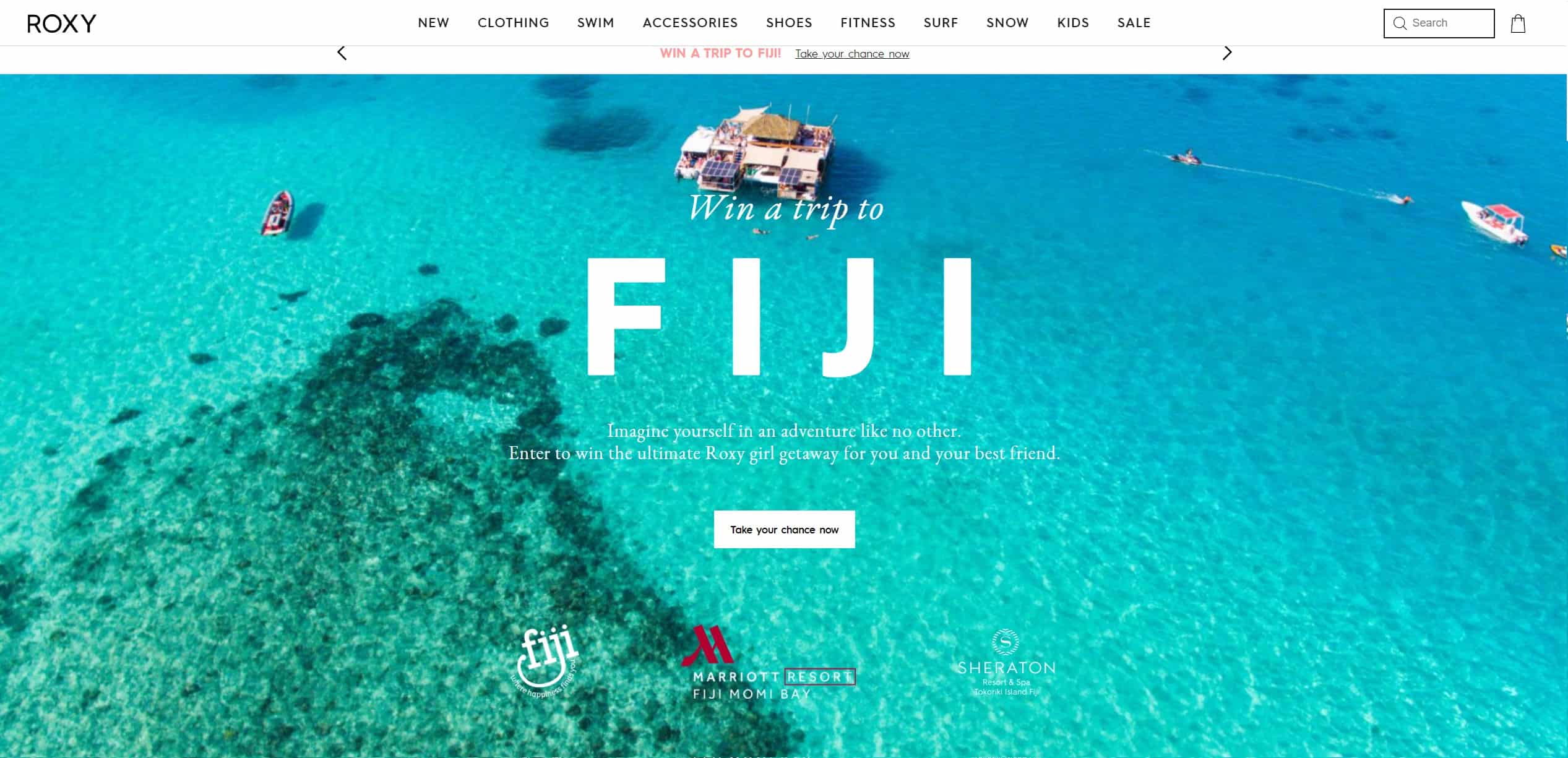 3. Easy-to-use entry form
Make your entry form easy to use. You don't want it to seem like a time-consuming task to enter a giveaway. You should only need to collect a name, email, and maybe a phone number from each entrant. Anything more and you could turn potential participants away.
The Saks Fifth Avenue giveaway is a great example of an easy-to-use entry form. Their giveaway landing page features their signup form in a prominent place, and they ask for four pieces of information. It is straightforward and easy to enter for a chance to win.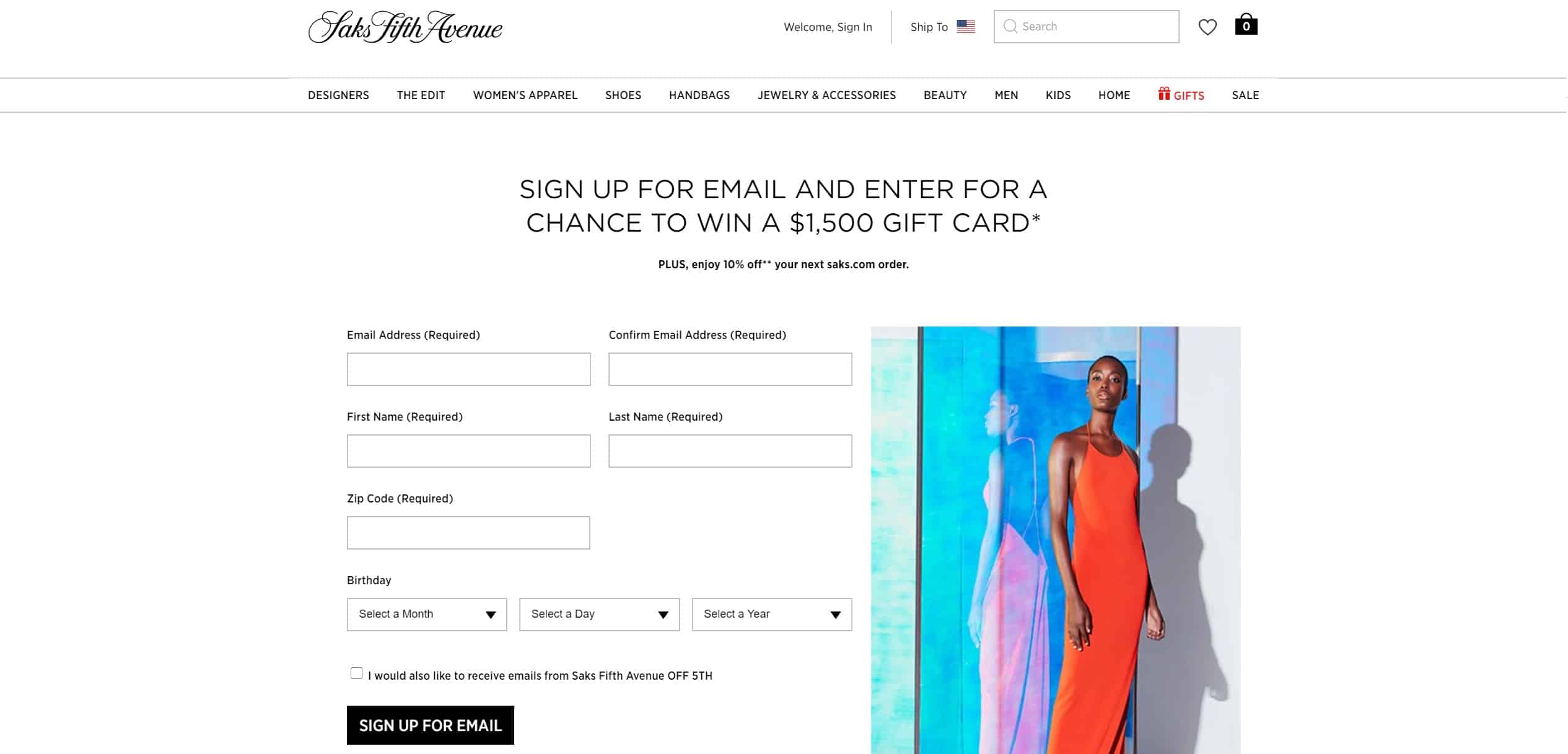 4. Sharing options
You want your site visitors to share your giveaway. Even if the prize doesn't appeal to the person looking at your giveaway landing page, they might know someone who would love to enter. Make it easy for people to share.
Include sharing icons for every platform, including Facebook, Instagram, Twitter, and email. If possible, include copy about the giveaway so the person can easily share a prewritten post. The easier it is, the better. Include the sharing options on the landing page and on the contest entry confirmation page.
5. Disclosures
Disclosures include any privacy policies, the official rules, legal disclaimers and additional terms and conditions. Include all of that information on the landing page so your giveaway participants don't have to search for it. Because you're collecting sensitive information, you need to include what you're going to do with it in your disclosures.
If you are running a game of chance, you also need to disclose that no purchases are necessary to ensure you are following state and federal laws.  This language must appear in legal disclaimers (with other required material terms) on the landing page.  Entrants can click through to the full terms and conditions through the legal disclaimers.
Meiomi's giveaway is a great example of how to include disclosures on a landing page. Their contest landing page is short and straightforward. The disclosures have asterisks to signify that you can find more information in the footer. The disclosures are clearly visible, as is the link to their official rules. This keeps the page from looking cluttered and eliminates confusion, while still clearly offering the necessary information.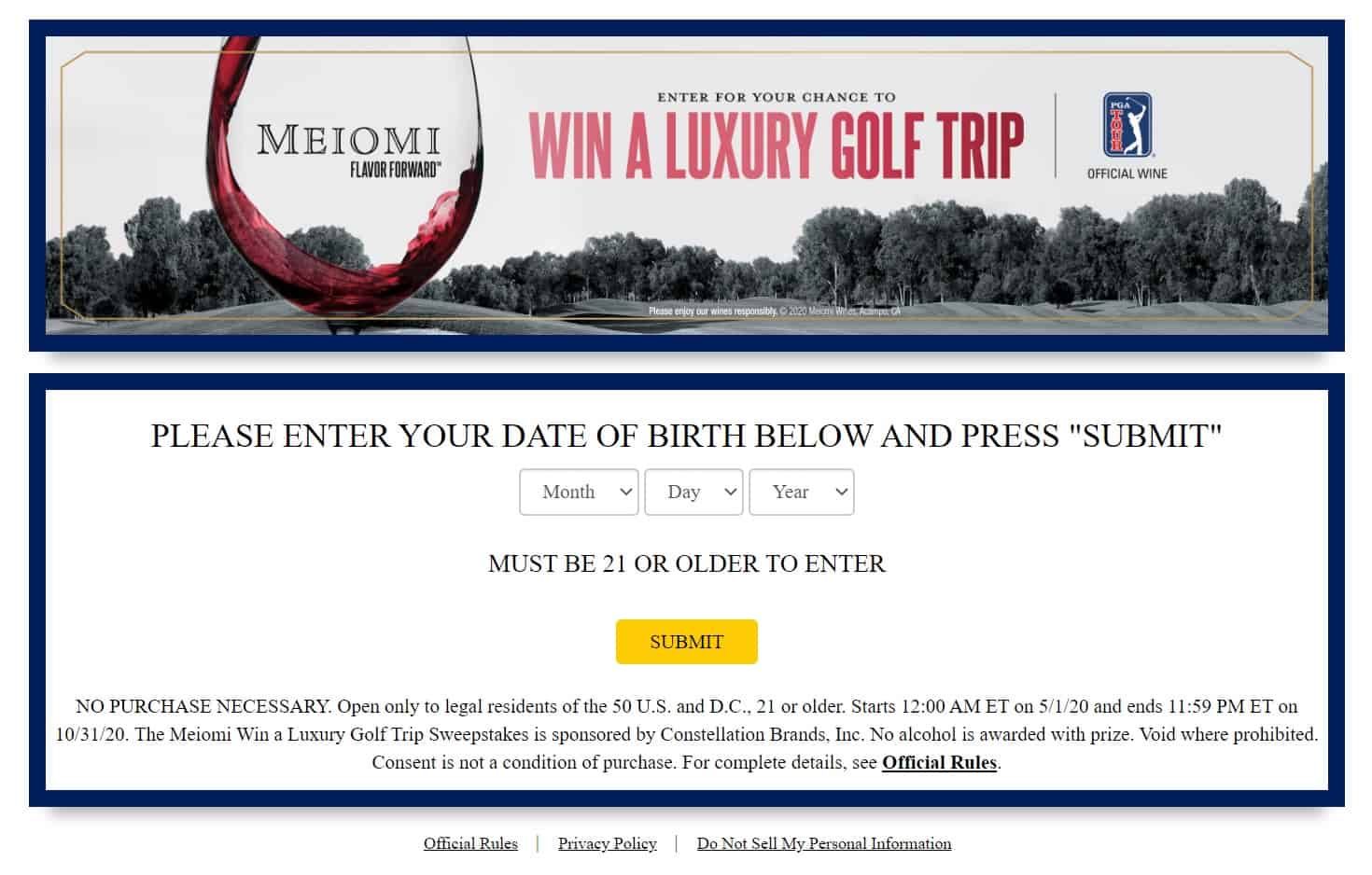 Get Started Today on Your Contest Landing Page
Landing pages are a great tool for giveaways whether they're simple or fancy. They give you insights on who your audience is, as well as access to their inbox. Overall, they help convert sweepstakes and contest entries into people loyal to your brand.
Don't forget any of the following elements when you're assembling your landing page:
Clear, exciting copy

Crisp, creative imagery

Easy-to-use entry form

Sharing options

Proper disclosures
Once you have all those elements together, you can start testing your landing page by performing A/B tests. Testing helps you find and resolve any glaring technical issues before you launch. It also ensures that your landing page encourages community engagement and attracts your target audience.
If you are unable to build out the landing page on your own, give us a call!  We can build a custom website or a landing page for your next sweepstakes, contest or game.